Have you wondered why social media management is being prioritized by startups? Statistics show that social media has been fundamentally changing the face of businesses. 
Given that users spend 22% of their time browsing Facebook, Instagram, or Twitter, this is perhaps the best tool for showcasing your products and services. Did you know that two-thirds of online viewers use social media platforms regularly? Can you imagine how much information about business products or services can be shared here on a daily basis?
These numbers tell you why social media advertising is fast growing into the biggest marketing tool for all businesses, big or small. It has dramatically changed business-customer relationships.
In What Ways Can Social Media Management Help a Startup?
If you have just launched a business, you know better than anyone how challenging it is to juggle multiple tasks. Instead of trying to do everything on your own, which is not only impractical but also ineffective, why not hire social media marketing services to boost your online presence?
Whether it's Reddit, Pinterest, LinkedIn, Twitter, or Instagram, each plays an important role in reaching out to your target audience. Instead of spending a fortune on traditional marketing and advertising methods, it makes sense to sign up with professional social media management services.
Now you may wonder, is it necessary to be present on every available platform? That's a question that social media professionals can answer for you. It's their job to identify which social apps your business needs to be a part of. 
Social media must be chosen according to the target group. For instance, if you run a startup selling smart devices, you should be present on Instagram where the audience is likely to be your prospective customers. If you launched a B2B company, focus on platforms like LinkedIn; you don't have to rush to create an account on TikTok!
Wider reach:

The biggest advantage of hiring social media management services is to reach out faster to your customers. You can connect with them in real-time through live chats and comments sections. This two-way interaction is faster than email responses and you can address your client's queries directly.

Content:

Creating engaging content helps you find your prospective customers faster. When you provide them with information, relevant updates, and interesting news like promotional offers, you engage with them on a continuous basis. Social media professionals will post actively for your target audience and analyze their reactions to tweak their strategies.

Credibility:

When you create engaging posts, you start a conversation with your customers. But, as a startup, this isn't going to be enough. You need to look after your current clients and respond to their messages promptly to convince them that you are looking out for their best interests. When your clients know you care for them, they show loyalty to your brand. This means higher sales and better visibility. Consumers are more likely to buy from companies that they trust. Social media is the best way to establish this trust.

Social media ads:

If you want to reach out to new customers, social media is your best bet. Using different social media platforms, your new business can hope to generate leads. As you keep posting relevant content, you can encourage new viewers to follow and like your social media pages. For this, social media ads can be helpful; these are meant to target specific groups of customers.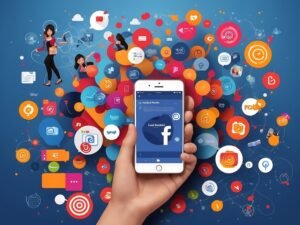 Cost-efficiency:

For a startup, the biggest concern is the budget. Most new businesses cannot set aside a huge sum of money for advertising. This is where social media triumphs over other advertising methods. It's practically free to start with; as your startup grows, you can invest in paid campaigns to get more visibility. Not only is social media management more economical but also more effective because you can actually identify and control your target customers. You get to choose who will view your ads.

Brand image:

Building brand awareness is one of the biggest challenges for any startup, especially in an age of digitalization. Social media allows you to share your story with people who matter; you get to create your brand image the way you want to. New entrepreneurs can use this opportunity to establish a real-time connection with their customers; they can share their company's vision, goals, teams, and activities.

Tracking progress: Perhaps the biggest advantage of using social media marketing is that you can actually measure the progress, unlike in other traditional advertising methods. When you work on a product and showcase it to the world, you get feedback from users. This helps you make necessary changes to it and introduce more innovative solutions. When you know what your customers need, you can serve them better. Startups can benefit from tracking metrics; numbers don't lie and you can assess the results of a digital marketing strategy. Using social media, you can find out how many followers have read your posts, clicked on your links, and made purchase decisions. These statistics show whether you are successful on a specific platform and which form of communication is bringing in maximum responses.
Increase inbound traffic:

Unless you post regularly on social media, you won't get new viewers to your website. The ones who show up are your usual customers and who have chosen to buy from you. Every new social media profile strengthens your marketing strategy and helps to bring in new customers. Social media marketing services publish your content across multiple channels so that people from different backgrounds can find you.

Supplement offline marketing:

To build a successful offline advertising campaign, you must integrate it with your online marketing efforts. This ensures your brand can reach out to a wide audience. Here too, social media plays a key role in integrating a brand's offline and online marketing activities.
In these many ways, social media lets a startup establish meaningful relationships with its clientele. It facilitates networking with different types of customers and gives your brand the voice to make these communications personal. For more information on our services.
Read this blog – Importance Of Working With A Website Development Company In Texas